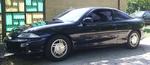 paul kunzer
cassanova7167
Location:
Schaumburg, IL (chicago/ohare area)
Joined:
Monday, April 14, 2003
Last Update:
Thursday, January 12, 2006
Email:
Kunzerpaul@yahoo.com
Web Page:
http://www.myspace.com/paulkunzerjr
1997 Chevrolet Cavalier RS

Body Style: Coupe
Color: black
Engine: 2.2L I4 OHV
Transmission: Automatic
Interior: black and gm blue 7172



MODIFICATIONS

Engine:

P&P Head and exhaust. Upper and Lower Engine Mounts. For now thats about it. More to come!!!!

Suspension/Wheels/Brakes:

Full Auto Cross build up. KYB Shocks and Struts. Mantapart rear way bar (26mm)... Eibach ProLine springs Upper and Lower tower Bars. Low Profile Tires.

Interior:

See Pic's. More Coming
If time allows...

Exterior:Audio:Future:

Long List
Keeping to my self to see if the combos work good together. Then will repost List.