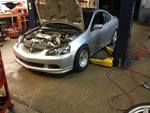 Jasmin Buric
suncavi
Location:
Largo florida
Last Update:
Thursday, November 13, 2014
Last Seen:
Wednesday, September 30, 2015
Email:
unlisted
2005 Acura RSX-S

About This Vehicle:


Its turbo 6 speed, AWD, full street trim and makes almost 500 to the wheels.

Body Style: Coupe
Color: Silver
Engine: 2.0L
Transmission: Manual
Interior: Black
Purchase Date: 2012
Purchased From: private owner
Build Date: 2005



MODIFICATIONS

Engine:Suspension/Wheels/Brakes:

Stock with D2s coilovers.

Interior:Exterior:Audio:Future:

More power
stronger driveline.